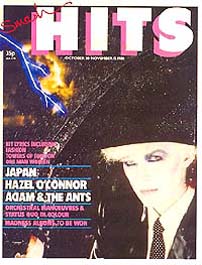 Smash Hits
has been taken to the vet for the last time.
Yeah, I know, it had been dreadful for years. Remember that Emma Jones woman on
Question Time
? And I blush at the fact that I applied for jobs there more than once.
But in the early 80s, when Neil Tennant was on board, it was funny and subversive, like an entry-level
NME
. (Which was also funny and subversive at the time, if you recall.)
Oh, and
Moira Shearer
died. If
Smash Hits
had been around at the time, she'd probably have been on every third cover between 1947 and 1952. The Christina Aguilera of her day. Or something.
Might watch
The Red Shoes
later.