The sensuous yet cerebral Molly Bloom offers a thought- and argument-provoking list of her
favourite London films
. Of course, the question of what 'a London film' might be is as open to discussion as the content of the list. Which London are we talking? And whose?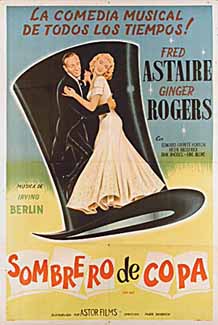 In the 30s, Hollywood could create anything it wanted on its backlot, and that included Ver Smoke. Witness, as an example, Fred taking Ginger on a carriage ride round Hyde Park, CA, in the delightful, utterly nonsensical
Top Hat
. This is travelogue London, with chirpy cabbies, bewhiskered bobbies and shots of the obvious landmarks every five minutes to remind you where you are (especially necessary in this case to distinguish it from the scenes in an equally fanciful Venice). The whole concept was brilliantly sent up in the opening sequence of the first
Austin Powers
movie, although I suspect there's a hardcore of Midwestern multiplex-goers that really does believe the streets of Chelsea are patrolled by Beefeaters.
The ultimate city-as-cinematic-simulacrum, however, was
Casablanca
. Much was made of the fact that the cast was drawn from dozens of different countries (of the main actors only Bogart and Dooley Wilson were born in the States) but nobody seemed too worried about the absence of any actual Moroccans. In fact, the producers' attention to veracity was so half-arsed, they even put Casablanca in the wrong place on the map in the opening sequence.
From the late 1940s onwards, easier and cheaper transport made location shoots more feasible. Audiences, it was claimed, also wanted more realistic movies, although what they actually got (wanted?) was a different, less fluffy flavour of unreality. The 1950 noir
Night and the City
is a classic example. Jules Dassin's delightfully sleazy yarn of dodgy dealers and desperate losers offers us all the right establishment shots of St Paul's and Tower Bridge. The twilight world of Soho clipjoints and fixed wrestling bouts is inhabited by reliable pillars of the Brit moviemaking community: bloated Dickens specialist Francis L Sullivan; professional slattern Googie Withers; all-purpose immigrant Herbert Lom. But American cinemagoers wanted to have their individual fruit pie from a Lyon's Corner Cafe and eat it; the leads are Richard Widmark and Gene Tierney; even the boring bloke downstairs who carries a torch for Tierney is played by the American Hugh Marlowe. The question of why so many people would want to swap the post-war Truman/Eisenhower boom economy for damp, rationed Blighty is seldom addressed. They're there because American audiences want them there, just as they'd later want Hugh Grant to cop off with Andie or Julia. The Hudson flows into the Thames, and Nelson wields a torch.
The last scenes
Night and the City
offer a frenzied cat-and-mouse game between Widmark and the various thugs, snitches and low-lifes of London ('London'?). The first time I saw it, I became disoriented when the action moved to the river, hopping between dockside huts and building sites. Where the hell were they? I was guessing the Isle of Dogs, and wondering how he'd managed to get so quickly from W1, before someone asked a policeman (of course) for directions to York Road; and I realised this mess of mud and cranes was the South Bank, presumably in the throes of development for 1951's Festival of Britain. And this, of course, was also where Grant quoted David Cassidy to McDowell in
Four Weddings and a Funeral
. Everything is connected, even when you're being chased by sinister Cockneys.
Of course, for many years, the preferred destination for footloose Yanks was Paris: think Hemingway, Gertrude Stein, Gene Kelly, Jean Seberg in
A Bout de Souffle
, selling the
Herald Tribune
on the Champs Elysées. The disadvantage, as Seberg's endearingly crap French demonstrated, is that Parisians insist on not understanding the international language of English shouted slowly. This created something of a problem for Roman Polanski in the mid-70s, when criminal charges of unlawful sex with a minor forced him to flee the States just after the success of
Chinatown
.
His first film in exile effectively wrote the whole Hollywood sojourn out of his history, by referring back to his London classic
Repulsion
(which is in Molly's Top Ten, something you can't say for
Four Weddings
).
The Tenant
(1976) is, like so many of Polanski's movies, about a small, insignificant individual cast adrift in a world gone insane. (
Note to self... Polanski does Kafka... music by Radiohead...
) In the familiar story of an apartment building that's not quite what it seems, he shakes up the model of
Repulsion
by making the lead character male (himself, rather than Catherine Deneuve) and transferring the action to Paris.
But because Polanski was now a Hollywood player, albeit a disgraced one, there was American money around; which meant American stars. Melvyn Douglas is the landlord; Shelley Winters the concierge. And if they're not going to speak French, why should anyone else? The polyglot Polanski is fine; but Isabelle Adjani, her loveliness only slightly marred by green eyeshadow and Deidre Langton specs, seems to be dubbed; the other French performers (including Josiane Belasko, Michel Simon and Claude Dauphin) are definitely given the
Singing Ringing Tree
treatment.
It's Paris made safe for Anglophones, although the image of a deranged Polanski dressing up as a woman and pulling out his own tooth may take the romantic sheen off the city for some. It's properly abroad, but you don't even need subtitles, let alone a phrasebook. In a world where Americans feel the need to sew Canadian flags on their backpacks before boarding international flights, such a concept must be tempting.
However, it's not just a case of moving into a city and installing enough aircon, valet parking and Hershey bars to make it comfortable. Location filming in New York and LA has become so expensive that Toronto and Budapest, Pinewood and Cinecitta are now called to stand in for the definitive American cities, CGI smoothing over the joins. Instead of bringing the world to the Hollywood backlot, the world becomes the backlot. As
Le Monde
declared on the morning of September 12, 2001:
"Nous sommes tous des Américains"
.