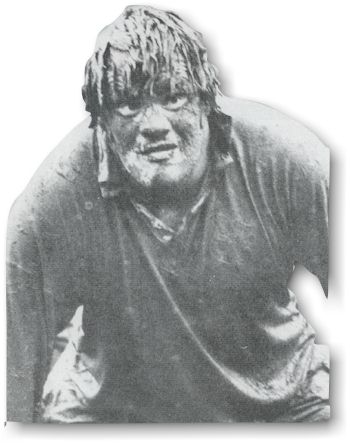 No, I didn't watch
England losing pluckily
in the rugby, or Lewis Hamilton arsing up, but maybe still winning because someone else used the
wrong flavour petrol
. As far as I'm concerned, rugby and Formula 1 are only of any interest when stuff goes wrong: a match that descends into a blood-and-mud-bath (the Swamp Thing at the top is ex-England prop
Fran Cotton
, surely the hardest man ever to have a girl's name apart from maybe
Shirley Crabtree
); or a race that features a massive pile-up, preferably involving innocent spectators. And neither of those things happens any more, it seems. So I'll stick to croquet, ta.
In any case, while all those manly men were driving nowhere in Brazil, I was at the
Joe Louis Theatre
at the Suan Lum night bazaar here in Bangkok, watching a traditional puppet show about Hanuman the monkey god. Who's a friendlier bloke than the
monkeys of Delhi
, it seems.
The reason we lurched into such a self-evident tourist trap is the presence of my old buddy and self-evident tourist Emma, who came laden with the sort of stuff you can't get in Thailand, like decent peanut butter and the latest edition of
Plan B magazine
. Perusal of which seems to suggest that I'm not really that into new music any more, but I still like reading about it. And without reopening the wounds of the
Paul Morley skirmish
from last week, beginning a review of a subversive Ethiopian funk compilation with a quotation from
Roland Barthes
is always going to be a sound move in my book.