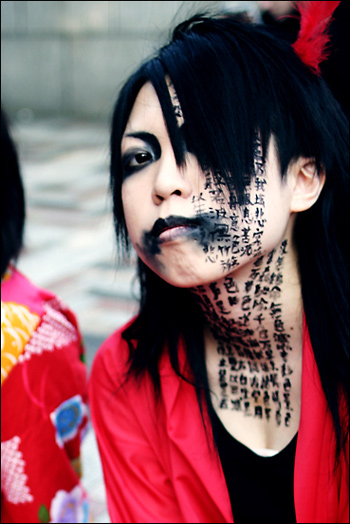 Just as I did with
Manila
, I'll try to communicate my impressions of Tokyo with just five things, observations, reactions, thoughts. But, because Tokyo is so much bigger, so much more
everything
than Manila, the five things are also bigger, and also maybe less precise. Think Zen
koan
, but less profound. Think
haiku
, but more verbose.
1. At the Senso-ji shrine, there is a big basin filled with burning sticks of incense. People lean into the smoke, wafting it onto their faces and bodies, hoping to bring themselves luck. I see a woman doing this while still wearing an anti-pollution facemask (but not, sadly, the type adorned with the ubiquitous image of
Hello Kitty
), and I wonder if she gets more of the good-luck smoke (because her lungs are purer?) or less.
2. Many Japanese restaurants put plastic food in their front windows, to tempt passing customers. Kappabashi has several shops that sell nothing but plastic food, from sushi to cheesecake, from beer to bacon. Which raises the question: what do they put in their windows? Back to bloody
Baudrillard
again, I'm afraid. The purest simulacrum is the copy that exists in the absence of the original. Isn't it? Doesn't it?
3. Japanese companies throw parties for their employees every December. They're called
bonenkai
, literally "forget-the-year", which strikes me as a far more honest and useful stance than the forced jollity of the Western Christmas bash. Get with it, UK, plc! And let's have compulsory group callisthenics first thing in the morning as well.
4. Harajuku station is the base of operations for schoolgirls who dress in increasingly wild extrapolations of Goth and fetish fashions, as well as older women who dress as schoolgirls and schoolgirls who dress as older women who dress as schoolgirls. As you follow their trail down Omote-sando, you enter a sort of parallel Camden, with shops selling vintage Vivienne Westwood and mod gear from Merc. An alternative alternative?
Northwestoneworld
? The attention to detail extends even to smells: the odours of tired noodles and musty denim are positively Proustian. And it's here, not in glitzy,
Bladerunnery
-y Shinjuku, that I suddenly realise what hyperrreality is. I think.
5.
Otoro
, the fattiest, most prized and revered cut of tuna sashimi, sliced fresh from the belly of the beast and eaten at 8 o'clock on a winter morning in Tsujiki Fish Market, tastes of very little at all, actually.