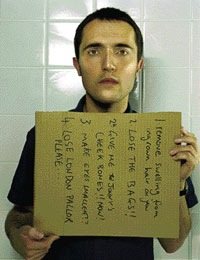 Can I crave your collective indulgence and ask you to assist, albeit passively, with a small experiment? The last time I lowered myself to commercial considerations, and mentioned my new book on this blog, not only did its sales rank on Amazon.co.uk soar to the nausea-inducing heights of 40,000-something, but my Google rating (with quotation marks) rose by 10,000. Both have since slipped to a quite startling degree. I don't know, of course, whether one thing provoked another. So this is just to test whether a simple mention that
Welcome to the Machine: OK Computer and the Death of the Classic Album
, by Tim Footman, will be published by Chrome Dreams early next month, is enough to set the wheels in motion again.
C'mon, gimme a break. At least my publisher didn't accidentally on purpose
leave the manuscript on the platform at Balham Tube station
so as to garner a small cough of publicity for a waning career.
Nevertheless, just like the nugatory slivers of news that adorn the advertisements in that free publication that a Slovenian thrusts into your paws when you're trudging to work; or maybe the interview with David Letterman that gives you an excuse to buy
Playboy
, here are a couple of things that aren't plugs. One is an interesting bit of metablogging from
David Cox
at CiF (although, as
Patroclus
rightly insists, CiF isn't a blog).
And the other is from my current bedside read,
Sex, Drugs, and Cocoa Puffs
, by Chuck Klosterman:
"It's become cool to like Star Wars, which actually means it's totally uncool to like Star Wars. I think you know what I mean by this. There was a time in our very recent history when it was 'interesting' to be a Star Wars fan. It was sort of like admitting that you masturbate twice a day, or that your favorite band was They Might Be Giants. Star Wars was something everyone of a certain age secretly loved but never openly recognized; I don't recall anyone talking about Star Wars in 1990, except for that select class of übergeeks who consciously embraced their sublime nerdiness four years befor the advent of Weezer (you may recall that they were also the first people who told you about the Internet). But that era has passed; suddenly it seems like everyone born between 1963 and 1975 will tell you how mind-bogglingly important the Star wars trilogy was to their youth, and it's slowly become acceptable to make Wookie jokes without the fear of alienation. This is probably Kevin Smith's fault."