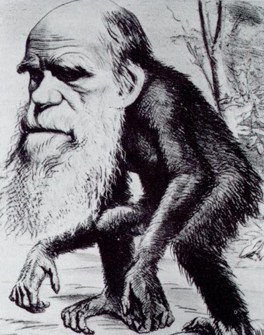 30% of students at UK universities believe in non-Darwinian theories about the development of life on earth.
Now, student life is when you are allowed to believe 66 impossible things before breakfast, and get union funding to start a relevant club. When I was at college, I began as a middle-of-the-road liberal with green tinges, lurched via Trotskyism into anarchism and ended up concocting my own blend of aesthetic situationism, which demanded that kids should be fluent in the thoughts of Oscar Wilde and the Zurich Dadaists before they've learned their times tables.
But this creationist/ID thing is a bit worrying. Some are blaming the rise of religious fundamentalism; others the decline in rigorous science teaching. But Steve Jones, professor of genetics at UCL, has another idea, according to the Guardian report: he blames
"political correctness among teachers here who feel they have to give a reasonable hearing to beliefs held by people from other cultures, particularly Muslims."
PC and its cousin, postmodernism, are despised by religious fundamentalists, because they deny the possibility of one universal truth, one interpretation of reality, one true way (beyond themselves, but that's another matter). But could it be that the loony God squad (both the Jesus and Mohammed wings) has learned how to play these heathen philosophies to their own ends?
UPDATE:
See the
Spaghetti Monster
for more details.