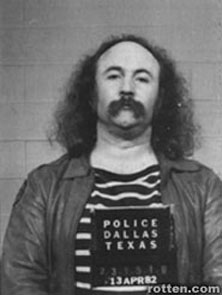 A few days ago, I watched
Hotel California: LA from the Byrds to the Eagles
. It was a well made doc, reinforcing BBC4's claim to be a still, small voice of critical intelligence squeaking against the celebrity/lifestyle dialectic that seems to run British factual TV these days. Since it was spun off from a book by the always perceptive and articulate Barney Hoskyns, you wouldn't expect otherwise. And I think everyone now is taking an interest in America in the early 1970s, because of the obvious resonances: a president slumping from adulation to contempt; an unwinnable war; a dream that died. For Watergate, Manson and Altamont, read Guantánamo and Abu Ghraib.
But, oh, sweet Jesus on a unicycle,
the music
! Seldom have I heard such a barrage of self-indulgent, witless, lame piffle being presented in the name of family entertainment.
In the mid-to-late 60s, Los Angeles was home to the Beach Boys and the Mamas and the Papas, the beauty of whose sunny harmonies barely cloaked the seething dysfunction that lurked beneath. The music scene was also home to a delicious strain of subversive humour, that encompassed the likes of the Monkees, the Turtles and Frank Zappa. And what replaced them? Po-faced singer-songwriters who insisted on embarking on a voyage of self-discovery, and charging the listener to accompany them. Personally, I've never understood the critical kudos handed out to the likes of Joni Mitchell and Gram Parsons, nor the redemption from ignominy that Jackson Browne and James Taylor have recently enjoyed. Then there was Linda Ronstadt, who escapes censure as part of the vile singer-songwriter tribe simply by virtue of the fact that she never wrote anything.
But the solo dullards were wimps who could be batted aside. The groups were harder to argue with, not least because their shrill harmonies formed a sort of choirboy wall of sound that created a mixture of paralysis, pain and nausea in any listener not under the thrall of marijuana, cocaine or fringed buckskin. And their egos made things worse. When David Crosby (of the the tedious, fey Crosby, Stills and Nash) indicated how bored he was by the tedious, obnoxious Eagles, I started constructing a new circle of hell for anybody found in possession of an acoustic guitar and an offensive poncho.
What was so infuriating was that many of these people were highly talented, often with excellent back catalogues. Crosby, of course, was a Byrd; Carole King was responsible for some of the best pop songs of the previous decade. Altamont and Manson didn't just kill the 1960s dream, it would appear; they killed self-deprecation, humour, balls,
fun
.
One figure transcended this ludicrous, up-their-own-arses-like-an-ice-cube-up-Gram's cabal, while still being counted among its number. He did not deign to be interviewed, but he was glimpsed in archive footage on many occasions, usually hovering to one side, glaring balefully at the proceedings from beneath his simian brow, or wielding a pair of BBC coffee cups as if they were offensive weapons. Towards the end of the film, we heard his alien yowl, as if he and only he knew how low music had fallen:
"The king is gone, but he's not forgotten. This is the story of Johnny Rotten."
Of all these tiresome people in their foolish cowboy boots and misconceived moustaches, only Neil Young, bless his curmudgeonly heart, understood how utterly
necessary
punk rock was.